Business Strategy
The IAJ conducts a comprehensive range of studies and research activities on actuarial science with the objectives of maintaining and improving the abilities of professional actuaries and of promoting the sound development of business related to the actuarial profession, thereby contributing to the stability of people's lives and the healthy development of the national economy. (Articles of Incorporation, Article 3)
The IAJ pursues a vision of establishing the actuary profession as playing a role that serves the public interest and sets long-term business strategies to fulfilling its vision. The strategies are advanced through specific activities aimed at achieving three goals: to exercise its functions in the public interest, to improve the expertise and problem solving skills of actuaries, and to strengthen the institute's organizational capabilities.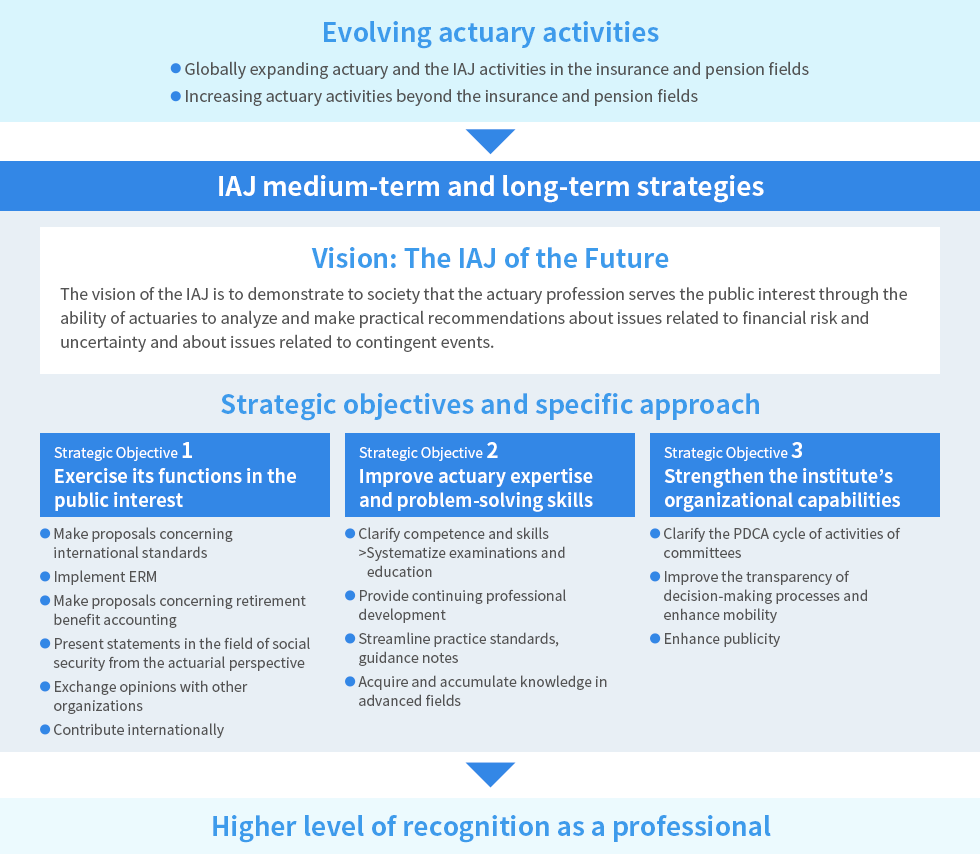 Our Slogan

The Institute of Actuaries of Japan adopted the a slogan "Think the Future, Manage the Risk" to clearly express our objectives and activities when we transitioned to a public interest incorporated association in 2013. The slogan reflects our devotion to constantly considering the roles and expectations of actuaries and of risk management in an environment of increasingly diverse risk.
Our Responsibility
The IAJ is a designated corporation in accordance with the provisions of Article 122-2, Paragraph 1 of the Insurance Business Law, which stipulates the following two items as important responsibilities of the institute.
In accordance with the provision of Article 122-2, Paragraph 2, Item 3 of the Insurance Business Law, the IAJ formulates a Standard Mortality Table that serves as the basis for calculating actuarial liability and provides services to the Financial Services Agency.
In accordance with the 2000 Financial Supervisory Agency and Ministry of Finance Notification 22, Article 2, the IAJ formulates standards of practice for insurance accountants for the calculation of insurance premiums and for the verification of the overall soundness of the insurance companies.
Peer-to-Peer Training
The IAJ is constantly seeking to enhance the professional capabilities of our members and provides abundant opportunities for members to advance their professional development by learning with and from their peers. The institute's research workshops actively explore topics in the insurance, pension, and other fields and widely share their findings.
Institute of Actuaries of Japan Regulations
Secretariats
Address and telephone/fax numbers
The Institute of Actuaries of Japan
Harumi Island Triton Square Office Tower X 2F
1-8-10, Harumi, Chuo-ku, Tokyo 104-6002, Japan
TEL:03-5548-6033
FAX:03-5548-3233
Location

Four-minute walk from Exit A2 (Tsukishima side) of Kachidoki Station on the Toei Oedo Line.
Nine-minute walk from Exit 10 of Tsukishima Station on the Tokyo Metro Yurakucho Line and Toei Oedo Line.
Business Hours
Monday through Friday
9:00am–12:00pm
1:00pm–5:00pm
*Closed on weekends, holidays, and the New Year period
*Textbooks are available for purchase at the secretariat until 4:30pm