The CERA Enterprise Risk Management credential is the most comprehensive and rigorous globally-recognised Enterprise Risk Management (ERM) designation.
In November 2009, a group of 14 actuarial education organisations from around the world took the unprecedented step of agreeing to collaborate to develop and administer a new qualification in ERM, the Chartered Enterprise Risk Actuary* (CERA), which was a groundbreaking achievement that gave rise to the Global CERA Treaty.
Go to Global CERA credential – Announcement.
The CERA Global Association (CGA) grants actuarial organisations the right to award the global CERA qualification to individual actuaries who have satisfied the requisite education and training requirements set out in the CERA Global Treaty.
The Institute of Actuaries of Japan is an award signatory for the CERA.
*All signatories to the Treaty use the acronym CERA. However, CERA variously translates as one of the following, according to local requirements:
Chartered Enterprise Risk Analyst
Chartered Enterprise Risk Actuary
Certified Enterprise Risk Analyst
Certified Enterprise Risk Actuary

Why Choose CERA?
Demand for actuaries with expertise in risk management is growing as ERM becomes increasingly critical worldwide
The risks that organizations are facing with the globalization of business and changes in society are becoming progressively varied, complex, and impactful.
Conventional enterprise risk management (ERM) focusing on individual risks is becoming insufficient, as contemporary circumstances require integrated and strategic ERM capable of maximizing corporate value.
Actuary professionals play a central role in the insurance and pension fields by providing risk analysis and assessment that is essential to sound business operations.
Actuaries are trained specialists in all aspects of risk management, with expertise ranging from probability and statistics to professional ethics.
The need for CERA certification is growing as actuaries are expected to play central roles in the ERM field.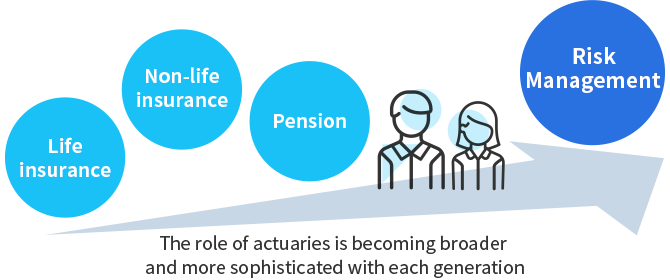 How Can I Get the CERA Qualification?
Members of the Institute of Actuaries of Japan can be eligible to receive the CERA qualification if they:
are Fellows of the IAJ
pass CERA Examination (ST9) organized by the IAJ
complete CERA seminar organized by the IAJ
CERA's Dedicated Website
Visit the CERA global website to find out how CERA can enhance your career opportunities.